S. Crosignani1, L. Orlandini2, S. Baruffi3, M. Froldi3,4, M. Cesari2,4
1. Fellowship in Geriatrics and Gerontology, University of Milan, Milan, Italy; 2. IRCCS Istituti Clinici Scientifici Maugeri, University of Milan, Milan, Italy; 3. ASP IMMeS Pio Albergo Trivulzio, Milan, Italy; 4. Department of Clinical Sciences and Community Health, University of Milan, Milan, Italy
Corresponding Author: S. Crosignani, Fellowship in Geriatrics and Gerontology, University of Milan, Milan, Italy, silvia.crosignani@unimi.it
J Frailty Aging 2022;in press
Published online March 24, 2022, http://dx.doi.org/10.14283/jfa.2022.26
---
Abstract
Objectives: Pain is one of the most common symptoms among oncological patients and has a strong negative impact on quality of life. The aim of this study is to assess if frailty and polypharmacy are associated with persistent pain in oncological patients undergoing rehabilitation.
Design: Observational, prospective, longitudinal study.
Setting and Participants: Data are from oncological patients admitted to the Oncological Rehabilitation Unit. Methods: Presence of pain, its intensity and characteristics were evaluated at the admission and after 7 days. A Frailty Index (FI) was computed from Comprehensive Geriatric Assessment (CGA) data.
Results: Among the 45 consecutively recruited patients (mean age 72 years, woman 44%), pain was present in 20 (44%) patients at the admission and 9 (20%) after 7 days of stay. Forty-one patients (92%) were taking more than 5 drugs at the admission (mean 9 drugs). The FI was normally distributed and descriptive statistics define our population as frail (mean 0.44; range 0.23-0.64). The FI was significantly associated with the presence of pain (OR 2.66; 95%CI 1.13-6.27, p=0.03) and its intensity after 7 days from the admission (β 4.24 95% CI 1.28 – 7.19, p=0.006), even after adjustment for potential confounders.
Conclusions and Implications: Investigating frailty in cancer patients to implement multidisciplinary strategies could play an important role in improving persistent pain.
Key words: Cancer, analgesic drugs, frailty index.
---
Introduction
Pain represents one of the most common symptoms in older cancer patients and has a negative impact on quality of life (1, 2). Although there is a great deal of attention worldwide on the assessment and therapies for cancer-related pain, it is, unfortunately, a common experience that pain is often poorly controlled by the therapy in place, in patients with solid or hematological malignancies (3). Given its complex and multifactorial nature, neoplastic pain is particularly difficult to treat and represents a challenge for the clinician (4).
Frailty (i.e., a condition determined by reduced physiological reserves exposing the individual to the risk of homeostatic disruption) and polypharmacy are also highly prevalent conditions in older cancer patients (5). Among the multiple tools available for frailty assessment, the Frailty Index (FI), proposed by Rockwood and colleagues (6) is one of the most widely used. This model, based on the assumption that health deficits tend to increase with age, provides a global score of the biological status of the individual.
The association between frailty, polypharmacy and negative health related outcomes is well established in the literature across settings and populations (7). However, the impact of both these conditions on pain management is still unclear. The aim of this study is to explore whether frailty, assessed using the FI, and polypharmacy are associated with persistent pain in oncological patients undergoing rehabilitation after a hospitalization.
Methods
Study population
Data are from a prospective study conducted at the Oncological Rehabilitation Unit. All patients were admitted after an acute hospitalization to undergo an in-patient rehabilitation program. The rehabilitation program was modeled upon the results of a baseline Comprehensive Geriatric Assessment (CGA) (8). CGA was conducted on admission by a multidisciplinary team (composed by a geriatrician, an oncologist, a rehabilitation doctor, a nurse, and a physiotherapist). Other professional figures (i.e., dietician, speech therapist, psychologist, social worker) were also available on demand.
Patients were considered eligible if they had a diagnosis of active oncological disease on admission. We excluded from the study patients who refused/did not complete the baseline CGA and patients who missed the pain assessment on day 7 from admission.
No ethical approval was required for this study according to national law number 196, 2003 and regional law of Lombardy region number 3, 2012. Because the study was conducted as part of standard care activities, no formal written informed consent was administered. However, all participants and their proxies were informed by the study investigators about the ongoing research activity and left free to accept or refuse their participation.
Dependent variable of interest
Presence of pain, type (i.e., somatic, neuropathic), localization and intensity of pain were assessed at baseline and after 7 days from admission. Pain intensity was assessed by the Numeric Rating Scale (NRS)-self-reported by patients. The Numeric Rating Scale (NRS) rates pain intensity from 0 ('no pain') to 10 ('worst possible pain') (9). Persistent pain was defined as presence of pain after 7 days from admission, despite modulation of analgesic therapy.
Independent variables of interest
The FI was computed from CGA data, according to the standardization criteria described by Searle et al. (10). A total of 35 deficits, including signs, symptoms, diseases and disabilities were selected (Table 1 supplementary material). Each item was assigned a score equal to '0' (absence of the deficit or '0.5' (medium deficit) or '1' (presence of the deficit). The FI was finally calculated for each patient as the ratio between the number of the deficits that the patient presented divided by the total number of the deficits considered for its computation.
The total number of drugs prescribed on admission for each patient was recorded. Polypharmacy was defined as the prescription of five or more concomitant drugs (11). The type and number of analgesic drugs prescribed on admission was also collected.
Statistical Analysis
Descriptive statistics were presented as mean and SD, or absolute numbers. Unadjusted and adjusted logistic regression models were performed to predict the persistence of pain (dependent variable). A two-sided p value < 0.05 was considered as statistically significant. Statistical analyses were performed using SPSS v 24.
Results
Baseline characteristics of our study are reported in Table 2 (n= 45; female 44%; mean age72; SD 10 years). Among the 45 patients consecutively recruited, 35 (77%) were affected by solid tumor, 10 (23%) by hematological cancer. The majority of our sample suffered from advanced disease (n= 39;86%). 20 patients (44%) presented pain at admission and 9 patients (20%) reported persistent pain (after 7 days).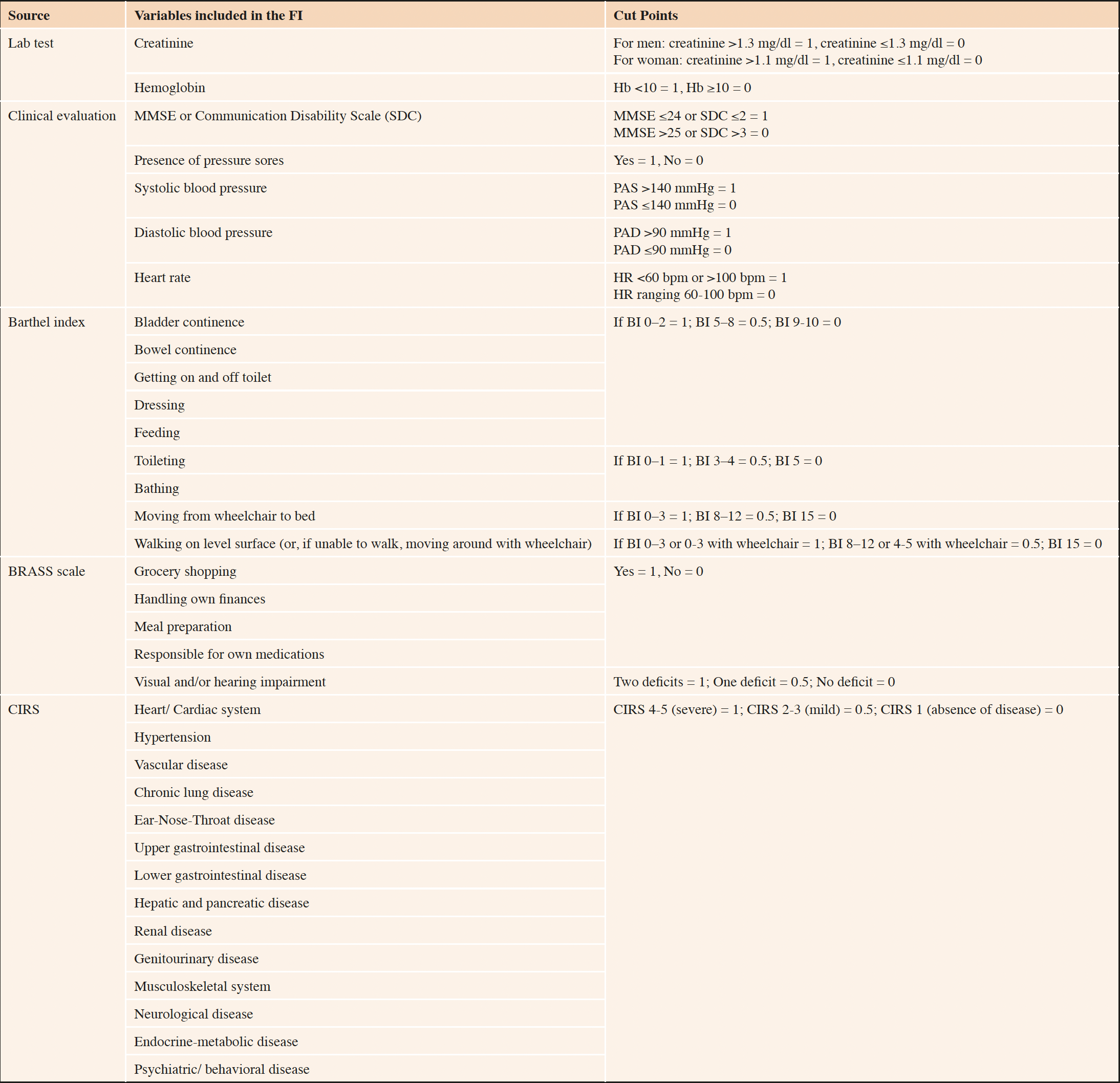 Legend: SD = standard deviation; MMSE = Mini Mental State Examination; CIRS = Cumulative Illness Rating Scale;
The FI was normally distributed (Figure 1). Descriptive statistics define our population as frail with a mean of FI =0.44 (range 0.23-0.64). No patient presented a FI value equal or higher than 0.7. The FI was significantly associated with persistent pain (per 0.1-increase of FI: OR 2.66; 95%CI 1.13-6.27, p=0.03), even after adjustment for potential confounders (age, sex, number of medications taken, pain-killer drugs). The FI was also significantly associated with Numerical Rating Scale after 7 days from admission (β 4.24 95% CI 1.28 – 7.19, p=0.006), as reported in Table 3. No association was found between persistent pain and the number of prescribed analgesic drugs.
Legend: CI = confidence interval; OR = odds ratio; * The OR is reported per 0.1-increase of the Frailty Index to facilitate the reading of the result.
Discussion
Our study shows that the FI is associated with persistent pain and pain intensity in oncological in-patients. Frailty and chronic pain are extremely common conditions that often coexist in older adults affected by cancer. According to the literature, more than 50% of older cancer patients are pre-frail or frail and these patients are at major risk of complications and mortality (12). In a recent meta-analysis (13), frailty and pre-frailty were present respectively in 18% and 43% of older adults experiencing chronic pain; vice versa chronic pain was reported by 50% of frail and by 37% of pre-frail individuals.
An advantage of our study is to have investigated the relationship between pain and frailty in cancer patients. The FI mean (0.44) defines our population as really frail. This result is significantly higher compared to the ones available in the onco-geriatric literature (14, 15). We think that this discrepancy could be explained by our peculiar setting: we included patients referred to a rehabilitation unit after a hospitalization for an acute event that made direct discharge or ambulatory follow up unsuitable. Therefore, our FI is more similar to FI calculated in acute, hospitalized patients or patients living in long term care facilities (16), whereas in other studies, the FI was built on oncological patients living in the community, who were referred for CGA as out-patients (17).
We found that frailty impacts in pain treatment independently. Since FI is associated with persistent pain, we can assume that it is easier for frailer patients to experience harder-to-treat pain. On the contrary, persistent pain is known to be a risk factor for developing frailty, reducing the individual's reserves and therefore contributing to decrease his ability to maintain homeostasis (18). We hypothesize that the same underlying mechanisms (i.e. impaired mobility, depression and decreased nutritional intake) that define worsening frailty could lead to persistent pain (19).
Previous research shows a positive linear relationship between analgesic use and pain in "robust group"; this relationship is less pronounced in "frail group", probably reflecting clinicians' caution with analgesic prescription (20). In the study by Koponen et al., the prevalence of prescription and non-prescription analgesic use was higher among frail older people and frail analgesic users required more attention from their physician, suggesting inadequate pain control (21).
When properly assessed, pain can be effectively reduced in most cases. The study of Lohman et al. suggests incorporating persistent pain assessment into phenotypic frailty measurement. In fact, frail classes determined by including persistent pain were more strongly associated with all adverse outcomes (22). Persistent pain certainly acts on the mechanisms that underlie fragility (23); investigating in cancer patients how frailty acts in worsening persistent pain and how pain can in turn worsen frailty would allow us to think of new preventive and therapy models to act on several fronts. Adequacy also lies in prioritizing interventions on the patient's needs (and analgesia is one of the cornerstones).
There are many studies that show how FI can be a useful tool in oncogeriatrics field, especially regarding therapeutic choices. Knowing frailty and measuring it with FI, as a result of a CGA, is a way to quantify the patient's resources (24).
In our analyses, we found no association between polypharmacy and persistent pain. This is in contrast with the literature, where, on the other hand, the relationship between polypharmacy, chronic pain and frailty is clear (25, 26). A possible explanation of the fact that we have not found this correlation could be linked to the intrinsic characteristics of the population we have chosen: our patients are all fragile and are all oncological. Analyzing the types of drugs assumed, these are commonly used in cancer patients. We could speculate that a population of non-oncological older adults would feature a correlation between polypharmacy and persistent pain.
Our study has several limitations worth to be mentioned: first, the small sample size may have limited our analytical plan; this fact is majorly related to the availability of a large dataset related to this specific population, as mentioned earlier. Moreover, given the characteristics of our sample, we cannot guarantee the generalizability of our results for the general population of oncological patients. In particular, the peculiarity of the rehabilitation setting must be considered before attempting further research.
Conclusions
In our study, FI is associated with persistent pain and pain intensity in oncological patients undergoing rehabilitation. The clinical complexity of the oncological and older individual may indeed represent a challenge in the pain management. Frailty assessment in this type of patient can have a significant role on pain management, in particular on its persistence and intensity and therefore improve the quality of life and its possible implications at the rehabilitation level.
Surely the way forward is that oncologists and geriatricians work together to identify frailty and promote multidisciplinary decision-making to improve more individualized and optimized management strategies for the care of patients with cancer (27). A revised frailty index score including pain is advisable, in light also of other evidence found in literature.
It is known that elderly patients experience multiple causes of persistent pain, often very unresponsive to drug therapies. In elderly patients who have also oncological disease, the issue is even more complex because several types of pain coexist and can change over time and by type or location (28). In these patients, daily activities are inevitably compromised, and this increases the risk of triggering a vicious circle of immobility, disability, adverse events, malnutrition, falls, and poor tolerance to cancer treatments. There is evidence that non-pharmacological treatments like cognitive stimulation, behavioral techniques/exercise can reduce persistent pain and can improve functioning (29), reducing developing frailty.
A multidisciplinary treatment model is possible in rehabilitation contexts where attention is paid to all these aspects (pharmacological and non-pharmacological), trying as much as possible to counteract the progress of frailty, act on pain and improve the quality of life.
Conflict of interest: None declared by the authors.
Open Access: This article is distributed under the terms of the Creative Commons Attribution 4.0 International License (http://creativecommons.org/licenses/by/4.0/), which permits use, duplication, adaptation, distribution and reproduction in any medium or format, as long as you give appropriate credit to the original author(s) and the source, provide a link to the Creative Commons license and indicate if changes were made.
References
1. Van den Beuken-van Everdingen MH, Hochstenbach LM, Joosten EA, Tjan-Heijnen VC, Janssen DJ. Update on Prevalence of Pain in Patients With Cancer: Systematic Review and Meta-Analysis. J Pain Symptom Manage. 2016 Jun;51(6):1070-1090.e9. doi: 10.1016/j.jpainsymman.2015.12.340. Epub 2016 Apr 23. PMID: 27112310.
2. Nunziata V, Proietti M, Saporiti E, Calcaterra L, Rolland Y, Vellas B, Cesari M. Pain Management in Nursing Home Residents: Results from the INCUR Study. J Nutr Health Aging. 2020;24(9):1019-1022. doi: 10.1007/s12603-020-1443-z. PMID: 33155631.
3. Ripamonti C, Pain management. Ann Oncol. 2012 Sep;23 Suppl 10:x294-301. doi: 10.1093/annonc/mds360. PMID: 22987980.
4. Ripamonti C, Bandieri E. Pain therapy. Crit Rev Oncol Hematol. 2009 May;70(2):145-59. doi: 10.1016/j.critrevonc.2008.12.005. Epub 2009 Feb 1. PMID: 19188080
5. Balducci L., Goetz-Parten D., Steinman M.A. Polypharmacy and the management of the older cancer patient Annals of Oncology 23 (Supplement 7): vii36-vii40, 2013 doi: 10.1093/annonc/mdt266
6. Rockwood K, Mitnitski A. Frailty in relation to the accumulation of deficits. JGerontol A Biol Sci Med Sci. 2007 Jul;62(7):722-7. doi: 10.1093/gerona/62.7.722.
7. Lees J, Chan A. Polypharmacy in elderly patients with cancer: clinical implications and management. Lancet Oncol. 2011 Dec;12(13):1249-57. doi: 10.1016/S1470-2045(11)70040-7. Epub 2011 Jul 6.
8. Puts MT, Hardt J, Monette J, Girre V, Springall E, Alibhai SM. Use of geriatric assessment for older adults in the oncology setting: a systematic review. J Natl Cancer Inst. 2012 Aug 8;104(15):1133-63. doi: 10.1093/jnci/djs285. Epub 2012 Jul 31.
9. Ardoino I, Franchi C, Nobili A, Mannucci PM, Corli O; REPOSI Investigators. Pain and Frailty in Hospitalized Older Adults. Pain Ther. 2020 Dec;9(2):727-740. doi: 10.1007/s40122-020-00202-3. Epub 2020 Oct 15.
10. Searle SD, Mitnitski A, Gahbauer EA, Gill TM, Rockwood K. A standard procedure for creating a frailty index. BMC Geriatr. 2008 Sep 30;8:24. doi: 10.1186/1471-2318-8-24.
11. Masnoon N, Shakib S, Kalisch-Ellett L, Caughey GE. What is polypharmacy? A systematic review of definitions. BMC Geriatr. 2017 Oct 10;17(1):230. doi: 10.1186/s12877-017-0621-2.
12. Handforth C, Clegg A, Young C, Simpkins S, Seymour MT, Selby PJ, Young J. The prevalence and outcomes of frailty in older cancer patients: a systematic review. Ann Oncol. 2015 Jun;26(6):1091-1101. doi: 10.1093/annonc/mdu540. Epub 2014 Nov 17.
13. Lin T, Zhao Y, Xia X, Ge N, Yue J. Association between frailty and chronic pain among older adults: a systematic review and meta-analysis. Eur Geriatr Med. 2020 Dec;11(6):945-959. doi: 10.1007/s41999-020-00382-3. Epub 2020 Aug 17.
14. Nishijima TF, Shimokawa M, Esaki T, Morita M, Toh Y, Muss HB. A 10-Item Frailty Index Based on a Comprehensive Geriatric Assessment (FI-CGA-10) in Older Adults with Cancer: Development and Construct Validation. Oncologist. 2021 Oct;26(10):e1751-e1760. doi: 10.1002/onco.13894. Epub 2021 Jul 10.
15. Orlandini L, Nestola T, Colloca GF, Ferrini A, Cesari M. The Frailty Index in older women with gynecological cancer. Aging Clin Exp Res. 2020 Aug;32(8):1561-1565. doi: 10.1007/s40520-020-01473-8. Epub 2020 Jan 24.
16. Rockwood K, McMillan M, Mitnitski A, Howlett SE. A Frailty Index Based on Common Laboratory Tests in Comparison With a Clinical Frailty Index for Older Adults in Long-Term Care Facilities. J Am Med Dir Assoc. 2015 Oct 1;16(10):842-7. doi: 10.1016/j.jamda.2015.03.027. Epub 2015 May 5.
17. Drubbel I, Numans ME, Kranenburg G, Bleijenberg N, de Wit NJ, Schuurmans MJ. Screening for frailty in primary care: a systematic review of the psychometric properties of the frailty index in community-dwelling older people. BMC Geriatr. 2014 Mar 6;14:27. doi: 10.1186/1471-2318-14-27.
18. Shega JW, Dale W, Andrew M, Paice J, Rockwood K, Weiner DK. Persistent pain and frailty: a case for homeostenosis. J Am Geriatr Soc. 2012 Jan;60(1):113-7. doi: 10.1111/j.1532-5415.2011.03769.x. Epub 2011 Dec 8.
19. Guerriero F, Reid MC. Linking Persistent Pain and Frailty in Older Adults. Pain Med. 2020 Jan 1;21(1):61-66. doi: 10.1093/pm/pnz174.
20. Jamsen KM, Turner JP, Shakib S, et al. Analgesic Use and Pain in Robust, Pre-Frail and Frail Older Outpatients with Cancer. Drugs Real World Outcomes. 2015;2(2):117-121. doi:10.1007/s40801-015-0022-9
21. Koponen MP, Bell JS, Karttunen NM, Nykänen IA, Desplenter FA, Hartikainen SA. Analgesic use and frailty among community-dwelling older people: a population-based study.Drugs Aging. 2013 Feb;30(2):129-36. doi: 10.1007/s40266-012-0046-8. PMID: 23288603.
22. Lohman MC, Whiteman KL, Greenberg RL, Bruce ML. Incorporating Persistent Pain in Phenotypic Frailty Measurement and Prediction of Adverse Health Outcomes. J Gerontol A Biol Sci Med Sci. 2017 Feb;72(2):216-222. doi: 10.1093/gerona/glw212. Epub 2016 Oct 21.
23. Saraiva MD, Suzuki GS, Lin SM, de Andrade DC, Jacob-Filho W, Suemoto CK. Persistent pain is a risk factor for frailty: a systematic review and meta-analysis from prospective longitudinal studies.Age Ageing. 2018 Nov 1;47(6):785-793. doi: 10.1093/ageing/afy104.
24. McCarthy AL, Peel NM, Gillespie KM, Berry R, Walpole E, Yates P, Hubbard RE. Validation of a frailty index in older cancer patients with solid tumours. BMC Cancer. 2018 Sep 14;18(1):892. doi: 10.1186/s12885-018-4807-6.
25. Cesari M. How polypharmacy affects frailty. Expert Rev Clin Pharmacol. 2020 Nov;13(11):1179-1181. doi: 10.1080/17512433.2020.1829467. Epub 2020 Oct 19.
26. Calcaterra L, Proietti M, Saporiti E, Nunziata V, Rolland Y, Vellas B, Cesari M. Predictors of drug prescription in nursing home residents: results from the INCUR study. Intern Emerg Med. 2022 Jan;17(1):165-171. doi: 10.1007/s11739-021-02841-6. Epub 2021 Sep 21.
27. Ethun CG, Bilen MA, Jani AB, Maithel SK, Ogan K, Master VA. Frailty and cancer: Implications for oncology surgery, medical oncology, and radiation oncology. CA Cancer J Clin. 2017 Sep;67(5):362-377. doi: 10.3322/caac.21406. Epub 2017 Jul 21.
28. Colloca G, Lattanzio F, Balducci L, Onder G, Ronconi G, Landi F, Morlans G, Bernabei R. Treating cancer and no-cancer pain in older and oldest old patients. Curr Pharm Des. 2015;21(13):1706-14. doi: 10.2174/1381612821666150130124926. PMID: 25633113.
29. Makris UE, Abrams RC, Gurland B, Reid MC. Management of persistent pain in the older patient: a clinical review. JAMA. 2014 Aug 27;312(8):825-36. doi: 10.1001/jama.2014.9405.